For kitchen designs and menu consulting please contact Lynn on 082 4409397 or email lynn@angelworks.co.za.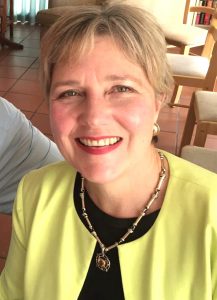 As a professional chef, Lynn has been involved in the food service industry for over 30 years.
"I have been involved in the hospitality industry as a  professional chef, a cookery school teacher, and an ergonomic kitchen designer since 1989. In 2009 I realised that I needed a new challenge in my career, without giving up  the knowledge and experience that I had gained in the hospitality and food world. This led to 3 fascinating years of study in various modalities of Kinesiology. I qualified as a Specialised Kinesiologist in 2012.

I have always been fascinated by the complex wisdom of the human body and personally experienced the astonishing ability of the human body to heal itself through Kinesiology.   Kinesiology  is a non-invasive therapy grounded in anatomy and physiology. Studying kinesiology offered me a way to combine my knowledge of food with the principles of Kinesiology which is that physical symptoms are messages from the body.

I was a teenager when I came across an ancient Ayurvedic proverb that states: 'If diet is WRONG, medicine is of no use. And if diet is CORRECT, medicine is of no good.'"
Lynn has a formidable range of experience in her professional career – from consulting for luxury trains, to hosting bespoke gourmet events at her luxury property, to designing professional kitchens, galleys and interiors.
She launched the Kitchen Angel Cookery School in 1992, and since then has trained numerous proficient cooks the professional skills to enhance their culinary repertoire and enjoyment of cooking.
Lynn Angel is an expert in cooking and hosting niche functions. She caters for celebratory events, international culinary tour groups, food and wine pairing dinners, and hosts cooking events for corporate team building. 
Many celebrities have dined at her table.  She trained under Michelin-acclaimed chef Raymond Blanc in London.
She has travelled all over South Africa as a culinary consultant to small restaurants and five star game lodges.
Her travel and work adventures have taken her to all seven continents, where she has mastered the art of many world cuisines.