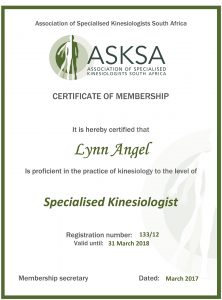 The philosophy behind kinesiology is that human beings (much like everything else in nature) are created as perfect, interconnected systems. We are designed to live in homeostasis – a perfect balance of mind, body, emotions and spirit – fully equipped for the things we want to achieve in life. However, sometimes we find ourselves in distress, whether it be physically or emotionally. This is our body's way of indicating that we are "off track", not living to our full potential, or not coping in one or more areas of our life. Kinesiology offers a very powerful means to rebalance ourselves – physically, mentally, emotionally and energetically – by allowing us to go all the way back and start by correcting the underlying cause or issues that have resulted in dis-ease, rather than simply treating or suppressing the symptoms.
Anything that registers in your brain as a stress, is reflected in your nervous system and in your muscles. When muscle testing is done with specific references and challenges, your brain will react to what stresses you. A kinesiologist will verify this through monitoring the response in your muscles. This can be any kind of stress – your health, your work, your finances, relationships, your goals, learning abilities, your inherited patterns, etc.
Once the cause of the stress has been revealed, muscle testing will determine the better neurological option – the best way for you to resolve this particular problem at this time.
Healing is about how well we can adapt to the many challenges in our life. It is about the expression of our values within ourselves and in the world out there.
Areas of life that may benefits from kinesiology:
Tiredness, fatigue and lethargy, sleep disturbances
Depression, grief and trauma
Relationship problems
Digestive and nutritional problems
Pain and stiff joints
Allergies and skin irritations
Lymphatic and Immune issues
Migraines and recurring headaches
Kinesiology as we know it today was originally developed by the American chiropractor Dr John Goodheart in the 1960's to enhance and improve the quality of his treatments. Since then it has evolved into many different branches, all based on the scientific, neurological workings of the body.
Neural Organisation Technique (NOT)
Developed by Dr. Carl Ferreri, this system was designed to specifically organise or re-organise the central nervous system. It is a process of physical adjustments, but works far more gently than direct chiropractic work, focusing on the restoration of homeostatis through the understanding of relationships between the survival systems of feeding; fight/flight/fright; reproduction; and the limbic/immune systems of the human body.
Neuro-Training
This integrative approach was developed by Andrew Verity, an Australian Neurolinguistic Programming master, herbalist, homeopath, iridologist and acupuncturist. It scientifically based and solution orientated, in that its focus is to offer the nervous system different references from which to approach areas where there may have been maladaptation in the past. Extensive use is made of genetic references, to effect changes on both a learned (acquired) and inherited level, retraining the neurology to function more appropriately and effectively.
Kinesiology incorporates modalities such as Neural Organisational Technique, Emotional Kinesiology, Neurotraining, 3 in One Concepts and Chinese 5 Elements.
The International Association Of Specialised Kinesiologists (IASK) defines kinesiology as follows:
"Kinesiology is the science of assessing the energetic systems of a person for balanced function, by using the change of physiological response through the muscular system as feedback. Using this same feedback, Kinesiology identifies any non-invasive treatment strategy to primarily affect and balance the energetic systems of a person for the purpose of promoting, restoring and maintaining health."
Kinesiology does not work in an allopathic way, in that it doesn't seek simply to alleviate symptoms. True health is not just absence of disease – it is consistent energy, mental clarity, resistance to stress, freedom from infection, emotional stability, good physical stamina, as well as the absence of disease. 

REMEMBER – the symptom is NOT the problem. Symptoms are merely "messengers", the body communicating that there are imbalances present.
My practice is situated at Origin Wellness Spa, 5th Floor. Double Tree by Hilton Hotel,Upper Eastside, 31 Brickfield rd, Woodstock
Cost of a kinesiology treatment
R550 per session
---
Book now – Call Lynn on 082 440 9397
---
SaveSave
SaveSave